Two projects just got approved for funding which means Loesje will be very busy the next months!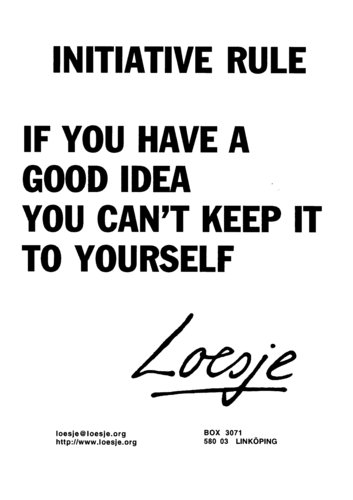 One is "Initiative Rule - if you have a good idea you can't keep it to yourself", about the improvement of non-governamental organization's communication through social network media. 30 participants from 15 different countries will come to Berlin in June for ten intensive days of training.
They will learn how to better use online tools like social networking websites, blogs, wikis, video sharing sites, hosted services, web application, mashups and folksonomies. By mastering these tools they will more succefully reach their goals in a world where Internet became an important part of activism.
The other is a job shadowing project called "Loesje education method / if you like something you'll learn it as a matter of course".
For two weeks in May, two members of Loesje Armenia will join the office of Loesje International. A learning programme will make sure that they improve a variety of skills like project management, networking, digital communication and fund raising. Loesje International will through this job shadowing strenghten Loesje Armenia in the strive for youth participation, inclusion of youth with fewer opportunities and through this enhance the feeling of European citzenship that young Armenians have started to feel after the fall of the iron curtain.
Keep tuned for more news about these projects!