Loesje workshop is a creative group activity, where participants make short texts (one-liners) by using a set of special text writing methods developed by Loesje. Since the beginnig of the COVID-19 pandemic our workshops are also avaliable online.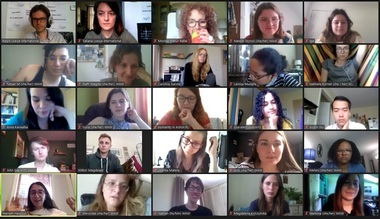 Featured: Loesje International Online workshop for Humanity in Action
You can invite Loesje International for an online Creative Writing workshop in English, a nice idea for a theme day or a company outing. Besides the Creative Writing Workshops, Loesje International also offers speed workshops and lectures about certain issues, such as Freedom of Speech.
Contact us: workshop(at)loesje.org
---
Erasmus+ European Solidarity Corps
European Solidarity Corps is a new European Union initiative which creates opportunities for young people to do volunteer work that benefit communities and people around Europe. Loesje International takes part in this initiative with our project "Volunteering abroad: I take full responsibility for becoming different". Every year Loesje International hosts two European Solidarity Corps Volunteers from different countries.
Filmed by Multimedia Centre of European Parliament.
Featured: Aurore Dufresne, Erasmus+ volunteer for Loesje International shares her experiences.
Aurore: "...My favourite activity is writing, that's 100% for sure. I find it really inspiring, I learn a lot of things. You try to create that little spark to reach as many people as possible. And to try to make them think about these issues that are important but that people assume don't concern them because they're happening far away. But it should be happening on every street corner. We should be thinking about them, about what we can all achieve together."
---
In commemoration of 75th anniversary of the end of World War II Loesje International organizes a training course for youth workers and activists under the name "War and Peace: How are we going to remember the future?" People from eight different countries (the Netherlands, Germany, Italy, Poland, Lithuania, Latvia, Estonia and Croatia) will come together for the duration of the project.