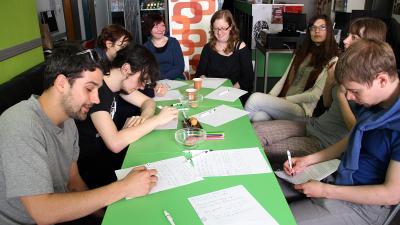 Loesje Writing Workshop at Pina, Koper, Slovenia
Between the 14th and the 18th of May, the 'Loesje Communi-action project' team from Berlin went to visit their partner in Koper, Slovenia. This visit came after the visit of the Slovene team in Berlin in February.
The week was composed of Loesje writing workshops, shooting of warm-up exercises video tutorials, video workshop, introducing Loesje in Trieste and discovering the library in Koper.
The German and Slovene Handbook, printed out, are finally ready and available in e-Kavarna in Koper and at Loesje's Imagination and Jugendklub Linse in Berlin.
You will soon see the new Loesje posters written during this week and the new Loesje video tutorials.