Missed the board meeting and assembly? Interested in the discussed topics? Do you want to know more about our plans? Would you like to share also your ideas about Loesje's future?
We're happy to inform you that we are going to publish short summaries about the meeting, so you will have the chance to take part in it virtually and share your comments with us.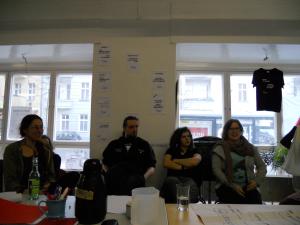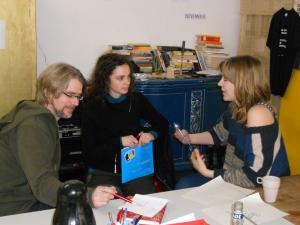 On a sunny Saturday morning, on the second day of the assembly twenty friends of Loesje gathered together in the international office in Berlin to share their ideas about the improvement of Loesje International's web presence.
The presentation was held by Artur and Petra, who started with the evaluation of Loesje International's web activities. They analysed the growth of the organisation on social media (facebook, twitter) and evaluated the activities of the website (online voting list, online bulletin).
In 2010 there were 52.345 visits on www.loesje.org. Our facebook page was set up in September 2010 and since then has received 2188 lifetime "likes", 1695 of them are monthly active users. We observe a stable and constant growth of ca. 7% per week. In October 2010 we started our twitter profile and acquired 1647 followers since then. We are listed 30 times.
The main part of the presentation was about new ideas and plans in order to improve the web presence of Loesje International. The basic idea is to make our website more interactive. We discussed our goals and opportunities about the interactive website and here are some of our plans:
Goal: an interactive and playful website with more content.
New content on the website:

for example: a map highlighting the active Loesje countries with a short description and photos, contacts of the Loesje International office, introduction of Loesje on the front page etc.

getting rid of old and unused content and functionality.
New form of the online Bulletin - kind of as a "blog" on the website:

constantly publishing articles and summaries from the international network of Loesje on the website as news,

bulletin as a platform to interact and discuss,

Loesje International office updates monthly as an article,

monthly review of the news, articles and updates,

promotion of the new content on facebook and via our newsletter.

More photos and videos about our activities:

starting with a video about the assembly,

short films about text writing workshop, final editing, poster sticking etc.

video clip out of photos of Loesje posters from all around the world.
The assembly is planning to have an evaluation of the the new website content in the summer camp of Loesje in Estonia (22nd July - 02nd August 2011).
To be able to improve our website, we also need you, your ideas, comments, photos or articles on any topics what you think would be interesting for Loesje and her friends.
Thanks for keeping Loesje's international network active!